LED Modules
You may also be looking for...
Starting at
$

16.95
per Pack
Buy Now
Buy Now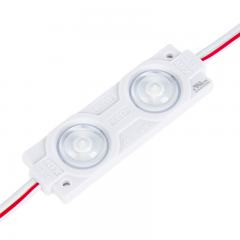 Buy Now
Are you having trouble finding something?
Let us know what you were searching for or make a suggestion to help improve our search and product selection.
Page 1 of 1
|
1 - 3 of 3 Results
About LED Modules
LED modules are bright, customizable lighting sources for a variety of projects and applications. Traditionally LED modules are used for illuminating signs or channel letters, but they can be used in many applications. Due to their versatility LED modules are perfect for backlighting, trade show booth design, accent lighting, display lighting, store window lighting, OEM components, and more. Available in either single-color or color-changing RGB as a single module or in packs. Easily install them with their adhesive backings or screw holes. Since each module is connected by a flexible, cuttable wire they can be placed easily throughout any project. Power supplies are also available to pair with your modules. Each module strand is backed by a 5-Year warranty and ships the same day.