Same Day Shipping
Super Bright LEDs warehouses are centrally located in the U.S. If your order is placed Monday through Friday before 3 p.m CDT, we will ship it that day. If you find that you need to return or exchange a product, we offer hassle-free 30 day returns and exchanges inside and outside of the U.S.
Site Tools
Account
Shop by Category
1971 MG Midget
Instrument Panel Light Bulb
Replace your factory, dim, or burned-out instrument cluster bulbs with long-lasting 1971 MG Midget LED instrument cluster bulbs. Choose from a variety of LED types, colors, and brightness levels for your speedometer, odometer, fuel gauge, or tachometer.
Important Notes
Vehicle manufacturers do not typically release instrument panel bulb information making a lot of this information unavailable. You may head over to our Instrument Cluster & Gauge section to view typical instrument panel LED replacement bulbs. It is important to check your vehicle's instrument panel bulb to confirm the LED replacement bulb is appropriate.
LED bulbs WILL dim with your dash light intensity control.
Refine Results
Color
Help
LED Emitting Color Should Match Lens Color
For best results, the LED color should be the same as the lens color. If the bulb is behind a clear lens, use the appropriate color for turn and brake light functions.
When installed in a housing that has a matching colored lens, red and amber bulbs will appear brighter than white LED bulbs—even though they have lower lumen outputs.
As an example: a red lens will filter out all but the red portion of light from a bulb, so if the light being emitted from the bulb is all red, none or very little light will be blocked by the lens. The light from a white LED bulb contains very little light in the red portion of the visible spectrum, so most of the light that contributes to its higher lumen value would be filtered out by a red lens. This makes the white bulb appear dimmer than the red bulb.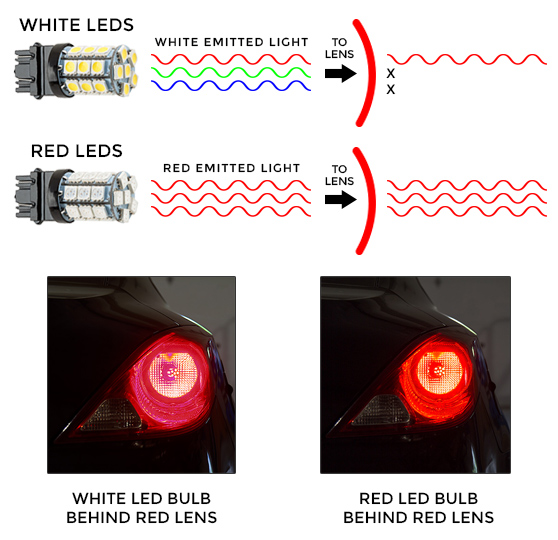 Image

Part NO

Lumen(Max)

Beam Angle

Beam Angle

Beam angle is used to express the width of the light emitting from the source. The narrower the beam angle the more focused the light energy is. Comparing two 40 watt lights one with a beam angle of 30(a) and another with a beam angle of 90(b), They both produce the same amount of light output but (a) will appear brighter in the beam angle compared to (b) at the sacrifice of light spread.

Price Ea.

BA7S-G
532 nm
5 lm
100 °
0.01 A
$0.89


(Qty 1-1499)